きのうはみんなごめんね。
みんなに心配かけちゃったみたいです。
コメントやメールやいっぱいもらえてとっても嬉しい。
本当に感謝しています。
こうしてみんなに私は支えられている。
みんなのことばや気持ちに涙しちゃいました。
本当に嬉しくて。
ありがとう
今年の初めにこの病気で悩んでいる時、
おともだちのひろみちゃんがくれた「ANGEL CARD」。
素敵なことばに出会えます。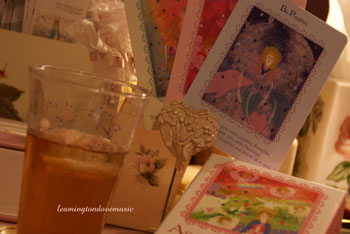 今日出逢えたことば・・・
BE POSITIVE
Know that when you have positive thoughts,
he angels shower you with blessings.
Like atttracts like, stay positive and know all is well.
CHOOSE LOVE
Really see that there is always a choice.
You can either have fear or love.
Your angels encourage you to choose Love.
FOLLOW YOUR HEART
Our heart always knows best.
Stay in touch with what your heart truly desires.
Message: Angela Heartfield